judge.me vs loox
judge.me vs loox Which one is the best App? We are going to Find out the answer in this blog.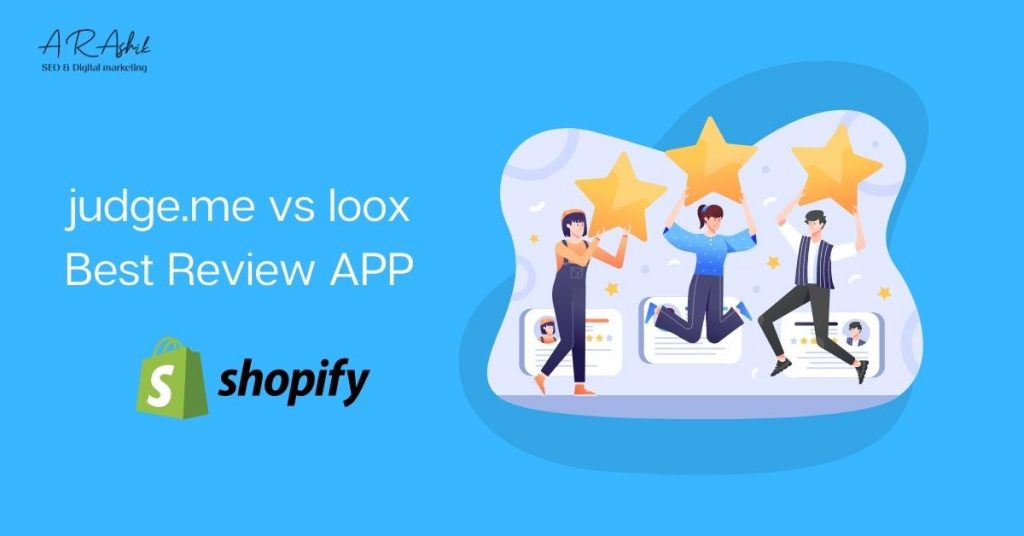 What is Judge. me?
Judge.me is a social proofing app that allows you to collect reviews and display them on your website or Shopify Store. The app provides you with the ability to collect reviews, display them on your site, and keep customers coming back for more ratings. Reviews and other user-generated content like photos and videos can help to increase conversion rates, organic traffic, and buyer engagement. Reviews are considered social proof which boosts the credibility of your product or service.
Key Features
Product reviews which include text, photos, and videos
Automatic review request email
Customizable email templates that match your brand
Email reminder to customers who haven't summit any review
Display reviews on the product page with photos and videos send my the customer – Like Amazon and eBay
Automatically approve reviews based on your condition or check each review manually
Dedicated review page and floating review
A wide variety of review widgets to choose from
Customizable Q&A section
Social sharing feature
Coupon code feature
Automatically share reviews on your social media account – Social push
Fully responsive – works smoothly across all devices, from mobile to tablets
Google shopping XML feed – It will help to display reviews on Google shopping
Rich sniped – Improve SEO optimization
Fast loading speed
Simple migration – Import your existing customer reviews directly from Yotpo, Shopify, Stamped.io, Loox, Ryviu, Rivyo, and more with a friendly customer support assistant!
24/7 Customer Support
Pricing
FOREVER FREE
Free
Unlimited product review requests
Photos & videos
Review carousel themes
In-email reviews
Curate reviews
SEO snippets
Manual social push
AWESOME
$15/month
Site reviews
All Reviews Page
Q&A
Custom forms
Coupons
Product groups
Cross shop syndication
Google shopping
No branding
Integrates with
Loyalty Points VIP Referral Programs by Smile.io
PushOwl – Web Push Notifications
Tracking & Delivery Updates by AfterShip
Google Shopping Feed
LoyaltyLion – Loyalty rewards and referrals
Klaviyo: Marketing
What is Loox?
Loox is a Shopify app that makes it easy for companies to collect and display customer reviews which include texts, pictures, and videos. Businesses can now upload photos and videos of happy customers, like the ones below, in no time. The app will automatically collect reviews and place them on the product pages.
Key Features
Automatic review request schedule by delivery time or order status
Customizable template collection
Product review including authentic photos and videos shared by the customers
Offer coupon for sharing reviews with photos and videos
Automatic reminds
Customizable widgets to match your brand
Fully responsive
Fast loading
Simple Dashboard to manage the app
Rich snippet – it will improve your SEO optimization
Referral program
Google shopping XML feed – Display reviews on Google shopping
Integrated CDN
Import review from Ali express
Public reply of reviews
24/7 Customer Support
Pricing
BEGINNER
$9.99/
+$5 for Loox Referrals (Optional)
100 monthly review request emails
Offer discounts for photo reviews
Reviews, Ratings & Popup widgets
Inline SEO
Up to 500 processed orders
GROWTH
$34.99/month
300 review requests included in base price + $35 per additional 300 emails. +$5 for Loox Referrals (Optional)
300-6000 monthly review request emails
All Beginner features
All widgets
All integrations
Full customization
Video reviews
Google Shopping
UNLIMITED
$299.99/month
Unlimited monthly review request emails
Unlimited Referrals
All Growth features
Customer Success Manager
Priority support
Integrates with
Klaviyo
Google Shopping
Omnisend
Loyalty Apps
Facebook Pixel
DSers
Loox is the most innovative way to add reviews to your site. Even if you haven't had any orders yet, Loox can import reviews even if it is from other similar products (but perhaps a different seller) on Aliexpress. You can also use reviews from your manufacturer, which lets you stay on top of things from day one.
Loox is creating a new way for businesses to get social proof for their purchases. The review can include photos and videos shared by the customer of real products. It allows you toanuse reviews for your products even if they come from the manufacturer. Your customers can share their opinions about the product and be honest, without any censorship. If you are dropshipping it is an easy way to start. You can have reviews on the very first day of your business.
The Winner!
In my opinion, Judge is the winner. I have personally used this app in all my new projects.