Best Subscription App for Shopify Store – Complete Guide
What is a Subscription Model?
Some of you may have heard or used it before and some may have never heard of it. Well, there is no better time than now to learn what a subscription model is and what it does. How can you increase your revenue using a subscription app on your Shopify store? YES! It can increase your revenue no matter what type of product you are offering in your store.
In the world of eCommerce, there is a new trend emerging – subscriptions. These apps allow customers to subscribe to a service and get regular deliveries without having to place orders each time. This is a great way for eCommerce businesses to maintain customer loyalty and increase revenue.
A subscription model is where you pay a monthly/annual fee to access content, products, and services. This can be either a one-time payment or a monthly payment. Subscription models are becoming increasingly popular because it's cheaper than buying things all at once.
Choose the Right Subscription Model
You're a busy entrepreneur running your eCommerce business, and researching the best subscription apps to help grow your Shopify store is a time-consuming job. It takes away from your actual work. That's why I created this cheat sheet. I know what I am talking about, and I'm sure you'll find it useful. I have listed the best subscription app for shopify.
A subscription app is a very smart way to grow your customer base. They offer many benefits to the businesses that use them. Shopify subscription apps can be used to grow your customer base and increase loyalty. Many subscription apps give you access to additional services and tools that can help you run your store smoothly. One of the best ways to attract new customers is to offer valuable services to your existing customers. By offering a discount or an exclusive deal, you can get your customers to buy from you again and again.
Which Type Of Shopify Products Work Well With Subscription Model?
The key to a successful subscription model is offering something unique to your subscribers. If you have a lot of competition, you should look into offering heavy discounts to your subscribed customers. This will make them feel special and help you to keep their loyalty. Also, offer an exclusive combo to your most loyal customers. This will make them feel like you really appreciate them. You can add a subscription model to any kind of store. No matter what you are selling. It is a way of building a special relationship with your customers.
Every business owner is looking for the perfect app to make their life easier. However, it can be a time-consuming process to find the right app for your needs. If you are running a Shopify store and you are looking for the best subscription app for Shopify, then this article is perfect for you.
I have done the heavy lifting by reviewing some of the best subscription apps out there and compiled them in this article. I will talk about what they do, how they work, and how much they cost.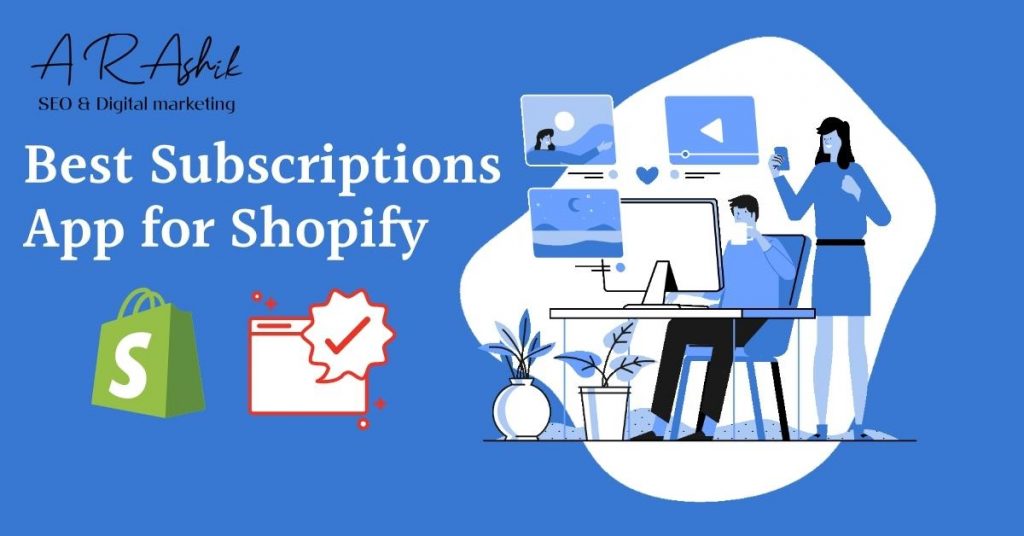 5 Tips to Consider When Selecting the Right App from the 5 Best Subscription App for Shopify
When choosing an app, consider the following:
The app should be customizable to match your branding
Track your customer's lifetime value
Allow you to measure performance
Seamless purchasing experience
Price and integration
Pros
Standard plan with no monthly fees
Customizable design
Work with Shopify checkout
Visual dashboard to measure performance
Custom subscription rules
Customer portal / RechargeSMS
Work with all popular email subscription apps
Cons
Custom design only available on pro plan
Enhanced Analytics on pro plan
Pro plan is $300/Month
Pros
60-day free trial
Customizable design and checkout page
Smart subscription management – Swap, add, remove products in subscriptions
Customer Portal
Visual analytics
Flexible subscriptions rules
Work with Shopify checkout
24/7 Friendly support team
Cons
A relatively new app so constantly changing their interface
May find some glitch in their interface
Doesn't work with most of the email marketing apps
Pros
Setup multiple membership plans
Create private social communities
Customizable membership plans with a trial period
Work with email marketing apps
Wholesale signup
24/7 Friendly support team
Cons
Design is not Customizable
No visual dashboard to measure performance
Doesn't work with Shopify checkout
No Customer Portal
Pros
Lifetime free plan
Customizable design
Work with Shopify checkout
Visual dashboard to measure performance
Custom subscription rules
Customer portal
Work with email marketing apps
Self-managed subscriptions
Integration with Bundle
No registration required
Delivery profiles allow you to give customers free shipping for subscription orders
Cons
The free plan has very limited features
May find some glitch while they are maintaining the app
Pros
60-day free trial
Customizable design
Work with Shopify checkout
Self-managed subscriptions
Visual analytics
Work with all kinds of email marketing apps
Migration specialists team to move your subscription from any other platforms
24/7 Support team
Cons
Constantly updating – may face some problem while migrating from one version to another version
Migration team response time is high
Poor Customer support
The number of best subscription app for Shopify is growing. It is a tough decision to choose which app to go with because the top apps are so similar.
With the help of this article, you will be able to find the best subscription app for Shopify in your business need. You will also know what kind of apps are available for your Shopify store.
If you think there's an app worth including in our Top 5 list of the best Subscription App for Shopify let me know. It's not a hard thing to do. Drop an email to me!!